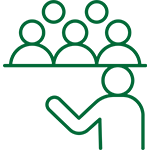 Educational Programs
Numerous educational opportunities exist for CDGA member clubs. Research findings are disseminated to member clubs through various in-person and online avenues. In-person opportunities include educational meetings at various events including numerous GCSAA chapter meetings across the Midwest. Additionally, the CDGA hosts educational opportunities each year at Midwest Golf House. Online education includes the use of weekly scouting reports, research reports, social media and other digital platforms.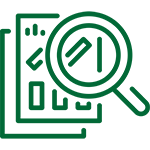 Research
The CDGA Turfgrass Program conducts numerous research projects to provide up-to-date solutions to member organizations. Research projects includes turfgrass disease management, turfgrass weed control, turfgrass variety evaluations, and much more. Please contact Dr. Settle via email or by phone at (630) 685-2307 to collaborate on future research opportunities.

Diagnostic Services
The CDGA Turfgrass Program offers a diagnostic service for golf course superintendents at member clubs. Diagnostic visits continue to be the foundation of the program. To receive diagnostic assistance, contact Dr. Settle via email or by phone at (630) 685-2307.