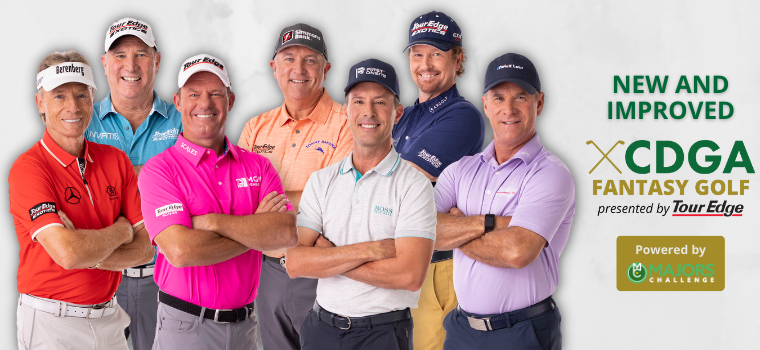 Thanks to the nearly 4,000 members who participated in CDGA Fantasy Golf presented by Tour Edge: BMW Championship.

See below for a list of the 20 prize winners or active members can LOG IN HERE to see full results.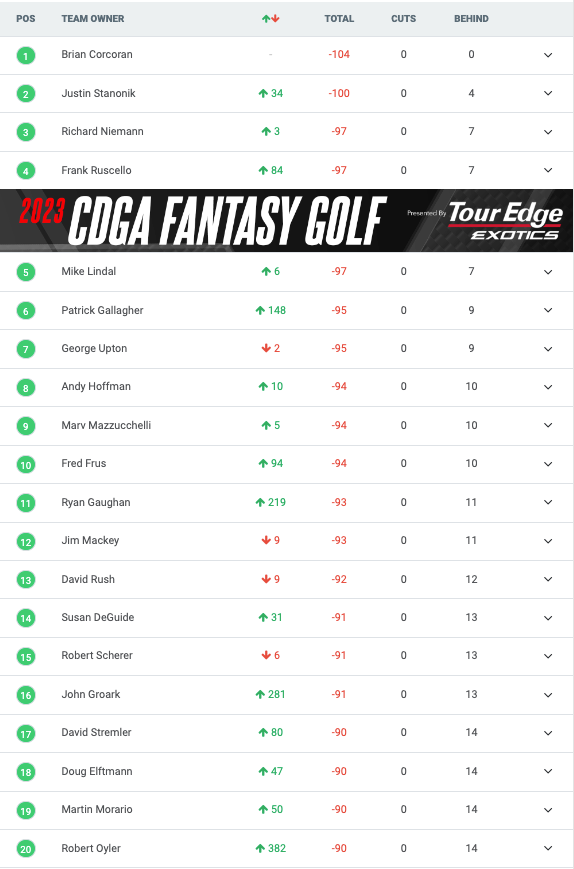 Additionally, the conclusion of the BMW event marked the end of the race to the CDGA Cup. Congratulations to Ken Matuszak, who earned the overall CDGA Cup title and will take home the grand prize of a full set of Tour Edge Hot Launch C523 irons, including a golf bag and fitting. Matuszak had an impressive run in the new season, as he earned points in all five events by finishing in 323rd place during the Masters, 17th in the PGA Championship, 82nd in the U.S. Open, 176th in the British Open and 512th in the BMW Championship.
See below for a list of the top 10 finishers in the CDGA Cup or
LOG IN HERE
to see full results.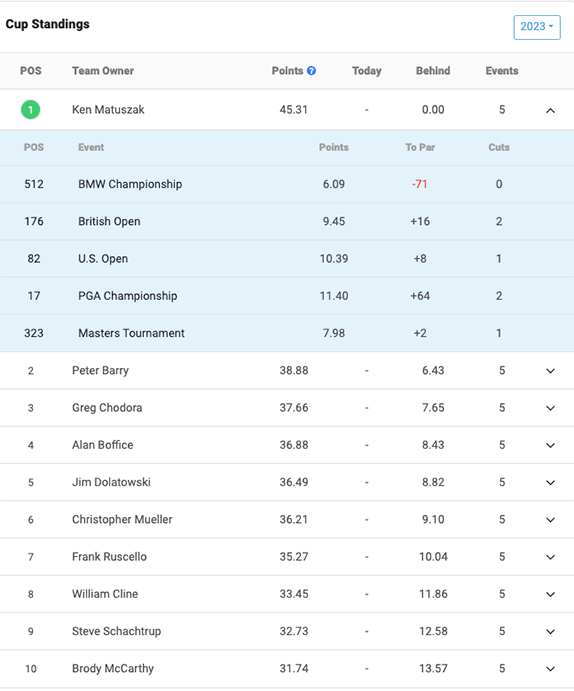 Prizes: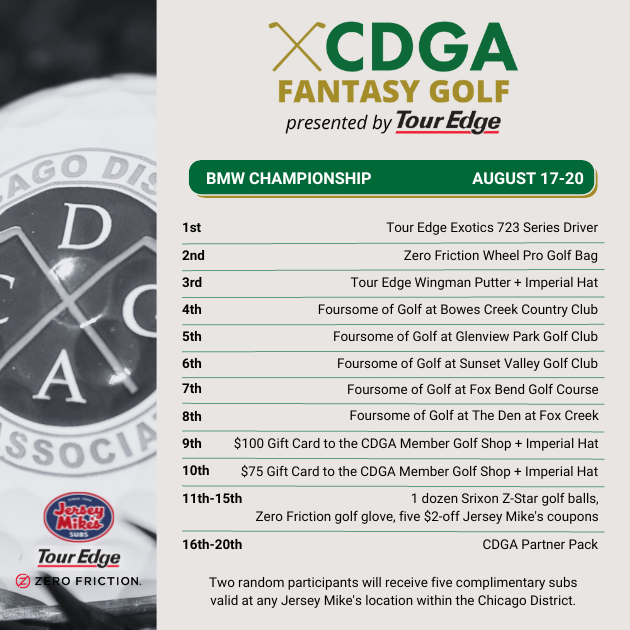 2023 CDGA Fantasy Golf Schedule

April 6-9

Masters Tournament, Augusta National GC (Augusta, Georgia)

May 18-21

PGA Championship, Oak Hill CC (Rochester, New York)

June 15-18

U.S. Open Championship, The Los Angeles CC (Los Angeles, California)

July 20-23

British Open, Royal Liverpool (Wirral, United Kingdom)

August 17-20

BMW Championship, Olympia Fields CC North Course (Olympia Fields, Illinois)
Tie Breaker Rule
In the event two teams have the same score then tie breaker rules are in effect. Ties are first broken by looking at the cut count, where the roster with the fewest number of cuts breaks the tie. Any golfer that does not finish the fourth round of an event is counted toward your cut count. If teams have the same amount of cuts then the team containing the lowest scoring golfers breaks the tie. For example, if Team A and Team B have the same score and cut count, while Team B's best golfer shot -5 and Team A's best golfer shot -3, then Team B places ahead of Team A. In the event both teams have the same best golfer score, then each team's second best golfer will determine the tie breaker. This continues until the tie has broken. If both teams have identical golfer scores then the tie remains.