My CDGA App
My CDGA, the app that puts Chicago District golf and your CDGA membership at your fingertips, is available to all Association members with an iPhone* or Android smartphone.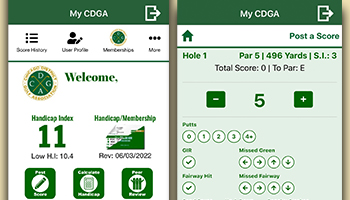 My CDGA allows you to do the following from the convenience of your smartphone:


Post home or away hole-by-hole scores from any course in the world, as well as view scoring history.


Utilize stat tracking when posting hole-by-hole scores, including fairways hit, greens in regulation, putts and more.


View graphs to track on-course progress when posting hole-by-hole scores and utilizing stat tracking during or after the round.


Utilize the integrated mobile application Leaderboard, which allows CDGA members to ink their Handicap Index® and score posting data and features social and on-course tools like GPS and game tracking.


Access your Handicap Index® quickly, view current handicap label and Handicap Index® history, calculate your course handicap and search member peer review.


Display CDGA member card and handicap label.


Utilize Peer Review and designate favorites for quick reference for any golfer around the country with a Handicap ID.


Connect with CDGA member clubs, view member club directory, map directions to a club and contact a club.


Browse various member benefits, such as up-to-date Member Perks, as well as participate in member-only contests like CDGA Fantasy Golf presented by Tour Edge.


Keep up with the Chicago District Golf Association, contact the CDGA, lookup event and tournament information and view your CDGA membership(s).
Click on an icon below to download the app in Apple's App Store or Google Play.
On your mobile device, search "My CDGA" in either Apple's App Store or Google Play and look for the CDGA logo.
* - iOS 10 or later is required to run the iPhone app. iOS 10 is only available for iPhone 5 or newer devices. CDGA.org is mobile friendly for all devices.
Chicago District Golf Association
11855 Archer Avenue
Lemont, IL 60439
ABOUT THE CDGA
MEMBERSHIP
HANDICAPS
COMPETITIONS
RULES
CLUBS
GIVING BACK
NEWS
MY CDGA CADDIE
CONTACT US
Copyright © 2023 The Chicago District Golf Association. All Rights Reserved.
Privacy Policy | Terms of Use